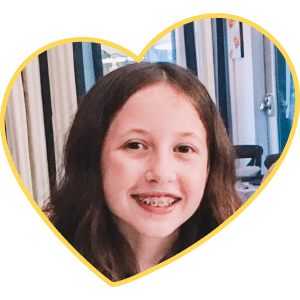 "After two and a half years, Sadie finally got to ring the bell letting the world know she was cancer free."
In October of 2014, six-year-old Sadie Aitken got off the bus at home like any regular school day. But Sadie's mom, Melissa, noticed something was off. Sadie was extremely flush. Melissa decided to take her temperature and her instincts were right; Sadie had a low-grade fever. Her mom figured it was just from being on the bus, but after a few days, her fever never broke.  
From sending her daughter to school to getting off the bus, what Melissa thought to be a regular school day turned out to be the start of every parent's worst nightmare.  
Melissa took Sadie to the local pediatrician to try hopefully get some answers for Sadie's continual fever. Her pediatrician ordered blood work and when the results came back, the doctor informed them her white blood cell count was low. Her pediatrician feared the worst, Sadie may have leukemia. "I am a registered nurse, so in the back of my mind that is what I was thinking," said Melissa.  
Sadie's pediatrician referred them to the children's hospital in Baton Rouge for further testing. They were there for about a week when Sadie's bone marrow biopsy came back negative. No one could figure out what was going on.  
Struggling to find answers, Melissa turned to friends who suggested she should consider going to Children's Hospital New Orleans or even St. Jude. At the time, her son was only 15 months old, and her mom was battling cancer. They knew St. Jude's wouldn't be an option because of the distance and her family's circumstances. Melissa spoke to Sadie's pediatrician and asked to be referred to Children's Hospital New Orleans.   
At just six-years-old, Sadie came to Children's Hospital to see pediatric hematology and oncology specialist, Dr. Maria Velez. Between January and March of 2015, Sadie had about seven bone marrow biopsies and a spinal tap. "My husband (James) and I, we were both just terrified. We didn't know what we were going to do financially, mentally…it was a rollercoaster," remembers Melissa.   
Sadie, Melissa, and James were gathered in a conference room with Dr. Velez and a whole team of physicians on March 12, 2015, James' birthday. That's when they got the news. Sadie's last bone marrow biopsy came back positive for leukemia. Melissa remembers that the care team was incredibly reassuring. Sadie had the most treatable version of leukemia. "It was terrible. We cried and cried and cried." said Melissa.  
The Child Life Department and Dr. Velez helped and educated Melissa on the best way to explain to six-year-old Sadie that she had cancer. Sadie immediately started chemotherapy, and everyone saw an instant improvement in her health.  
The side effects from the chemotherapy were incredibly tough for Sadie to understand and experience. Melissa recalls that sometimes she seemed like a different person during treatment. "She was angry and tearful. She gained a lot of weight with the steroids, which she didn't like. And she lost her hair twice, which she didn't like. And her hair was beautiful…so long and pretty. And she lost it, and that was very hard for her too," said Melissa.  
"It amazed us being there just how many children there are that have cancer, tumors, or don't have but six months to live. It is heartbreaking to see," said Melissa when reflecting on her time in the cancer center.  
Although the chemotherapy was challenging for Sadie, she did make new friends who were her age on the unit. If their white blood cell count was high enough, they could go to the playroom together while they received treatment.  
Ms. Tracey was Sadie's favorite nurse to spend time with in the clinic and she also loved her nurse in surgery. Melissa felt everyone on Sadie's care team was phenomenal, "Having the same, consistent nurse every day was great. The kids get used to them and they trust them, you know." 
With a laugh, Melissa said, "We would always go outside any chance that we could, if they would let us. We would get in a wheelchair, and we would just walk, and I would push her around the whole hospital until I couldn't walk anymore…just to get fresh air, to get out from being trapped inside those four walls, to get some sunlight." 
After two and a half years, Sadie finally got to ring the bell letting the world know she was cancer free. She had several true friends that stood by her side throughout her healing journey by checking on her and calling her constantly. Because she had to repeat first grade due to her treatments, she met her new best friend who she now spends all her time with.  
At first, after her treatments were over, Melissa remembers the panic she and her husband felt if Sadie had a cough or even got warm. They would ask themselves, "Is it back? Did it return?" But to this day, Sadie remains cancer-free and living life as a kid again. She has check-ups every six months at the hospital to ensure her treatment remains successful. 
When the COVID-19 pandemic began in March of 2019, Sadie made it her goal to lose all the weight she had gained from the steroids during her treatment. Since then, she has started eating healthy and exercising daily. Melissa noticed that her energy came back, and her hair had grown back beautiful once again.   
When Sadie grows up, she wants to be a marine biologist! She used her wish from the Make-a-Wish Foundation to go to Atlantis and see all the marine life. She specifically loves sharks and slid down the slide through an entire shark aquarium.  
If Melissa could give advice to another parent in the same situation as her family, she would say, "Always pray and know that God is in control. Reach out to other family members too. That's what we did. We also got to chat with a lot of families. There was another child in there and her name was Sadie too. She was just diagnosed with the same thing our Sadie was diagnosed with. Its nice to find somebody in the hospital that you can talk to everyday, for your sanity. You know, sometimes you feel like you can't take it anymore, but you just have to keep pushing on and know that there is an end in sight." 
Click here to learn to learn more about The Center for Cancer and Blood Disorders at Children's Hospital New Orleans.